In a traveling art installation, an artist works through the trauma he experienced while jailed at Haiti's Port-au-Prince prison, a place where inmates languish in dire conditions, often without trial, for years.
Haunted by the suffocating horror and hopelessness he witnessed in Haiti's national prison, this artist finds solace in his work.
Accused of arson, Paul Junior Casimir spent a year there, awaiting a trial that never was scheduled. He is one of the lucky ones; others have died waiting. Freed only because aid workers recognized his talent and a non-profit organization was willing to work on his case, upon release, Casimir began frantically building an art installation that recreates the hell he experienced.
Casimir, 35, hopes the project, a traveling installation called "Enfermé, Libéré" [Locked Up, Freed] will draw public attention and help build momentum for change.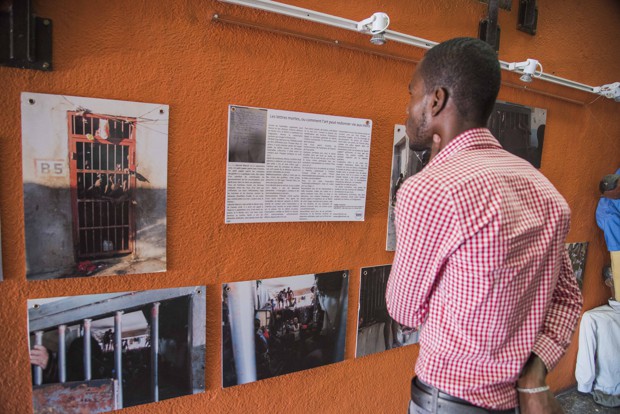 The exhibition, which also includes photographs by Seyi Rhodes, was first displayed at the French Institute a few months ago. It is supported by the Haiti Bureau of Human Rights (BDHH), a non-profit organization made up of lawyers who provide legal aid to prisoners. Representatives of BDHH say the country's main prison was never rebuilt after the magnitude 7.0 earthquake destroyed large parts of the city in 2010, but nonetheless it holds more than 4,000 prisoners, about six times its capacity of 700, even though some walls and ceilings are only half there. The vast majority—80 percent—are awaiting trial, according to the 2016 Survey of the Incarcerated Population of the Prison, a report commissioned by the United Nations Stabilization Mission in Haiti.
Some prisoners already have been exonerated, but their files were lost, so they remain, said lawyers from BDHH. Most prisoners cannot afford a lawyer. If found guilty, many would probably be sentenced to a fraction of the time they already have spent in prison waiting to appear before a judge. Inmates die daily of diseases like tuberculosis and cholera, or malnutrition, according to the United Nations' report.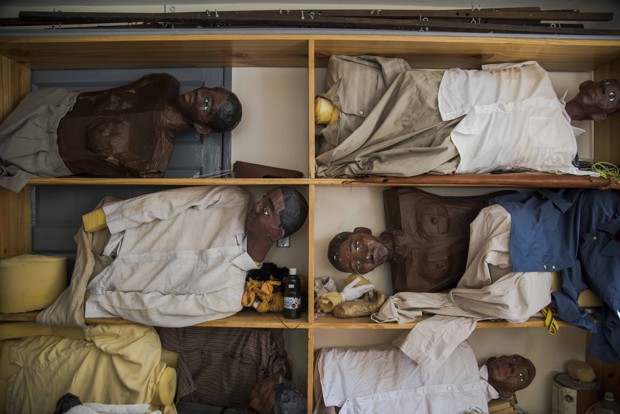 In Casimir's installation, currently showing at Haiti's national library located near the penitentiary in downtown Port-au-Prince, human-sized papier-mâché figures hold onto thin bars as they lay on tiny wooden beds. Pencil portraits and photos of real detainees hang on the walls; handwritten letters are pinned next to the puppets. They contain cries of despair of men and women, lost in the system and forgotten by the outside world.
On Sept. 21, 2015, in a letter now publicized on the BDHH's website, prisoner Labonté Marcel wrote:
"Dear Mr. Superintendent, I am writing you because I am suffering a lot in prison. I have been here since the eighth month of 2008. I have nobody, and I am asking you for help because I am very sick. Please help."
A year and a half later, on Feb. 8, 2017, Marcel died in prison—more than eight years after he was confined. He never got a trial, said Pauline Lecarpentier, the secretary general of the BDHH. He was buried anonymously in a collective funeral with other prisoners.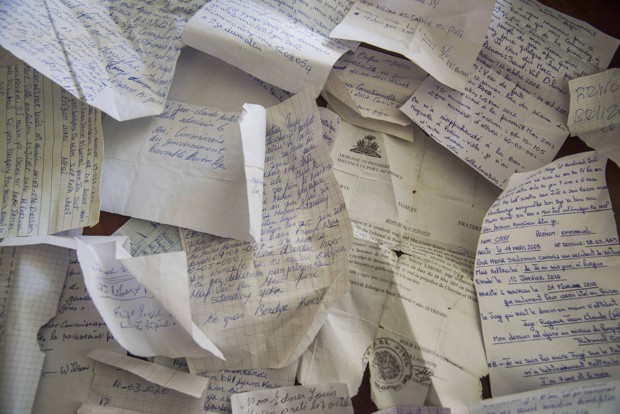 It is not only the denial of justice that is driving Casimir—who goes by his artist name Lintho—but the complete lack of basic human rights for prisoners.
Casimir, who was released in May 2017, survived the prison with the help of a French friend who sent him food and money.
"More than 30 people died in front of me," the artist said recently in his studio in Port-au-Prince. "Next to me, there was a prisoner named Benito who had tuberculosis, I used to give him his serum, but he eventually died…It devastated me."
During this most difficult time in his life, Casimir said his head started to fill with harrowing images: illness and death; the complete lack of hygiene; violence between prisoners in a section dubbed named "Titanic," in reference to it being built on three floors with so many people crammed together.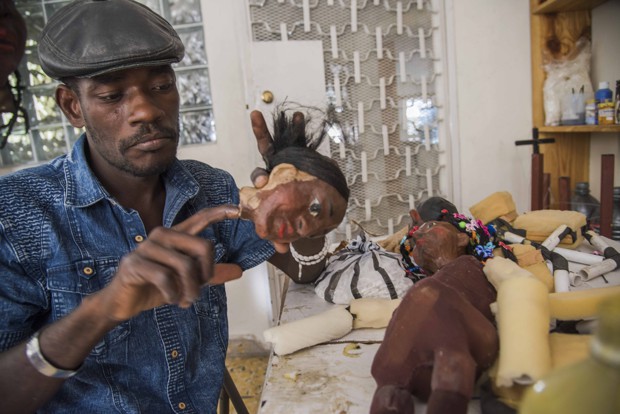 "There is a serious record-keeping problem," said Lecarpentier. "People enter the prison but never get out."
According to her, frequent strikes of civil rights workers, lack of organization, and even the absence of basic resources, such as ink for printers in city offices, have resulted in the total abandonment of these inmates and a catastrophic situation with no improvement in sight.
"[This exhibition] is about writing the history of justice or rather injustice in Haiti through the stories of people," she added.  "We talk a lot of prolonged detentions but it is always disembodied."
Casimir was exposed to art at an early age. His father is a painter and a mason. Among the places he worked was a cultural center that had a puppet studio, where Casimir started helping artists at the age of 13. Casimir's first creation was a clay bust of his father. He learned from a sculptor how to work with papier-mâché  and how to handle puppets and he narrated a show for the first time when he was 15.
Casimir says his work now is driven by the need to help others who were less fortunate than him. He also is working with other survivors of the penitentiary on other art ventures such as plays and puppet shows about the conditions in jail.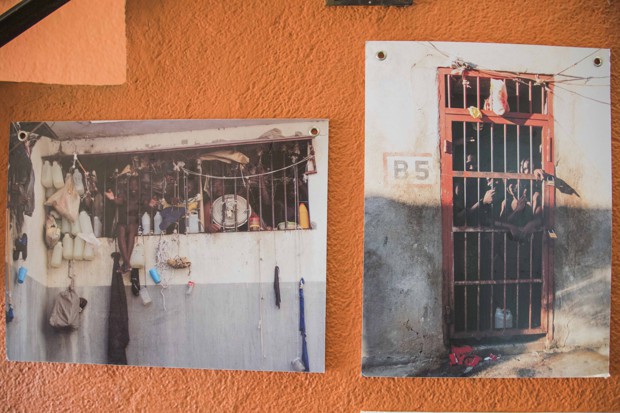 "Hopefully, justice will prevail," he said. "People's lives are destroyed. Even those who are guilty deserve to be treated with humanity. My work is a message of respect. That's all. "
Michel Joseph and Jacques Richard Miguel contributed
reporting. Story produced in collaboration with Round Earth Media.
Powered by WPeMatico