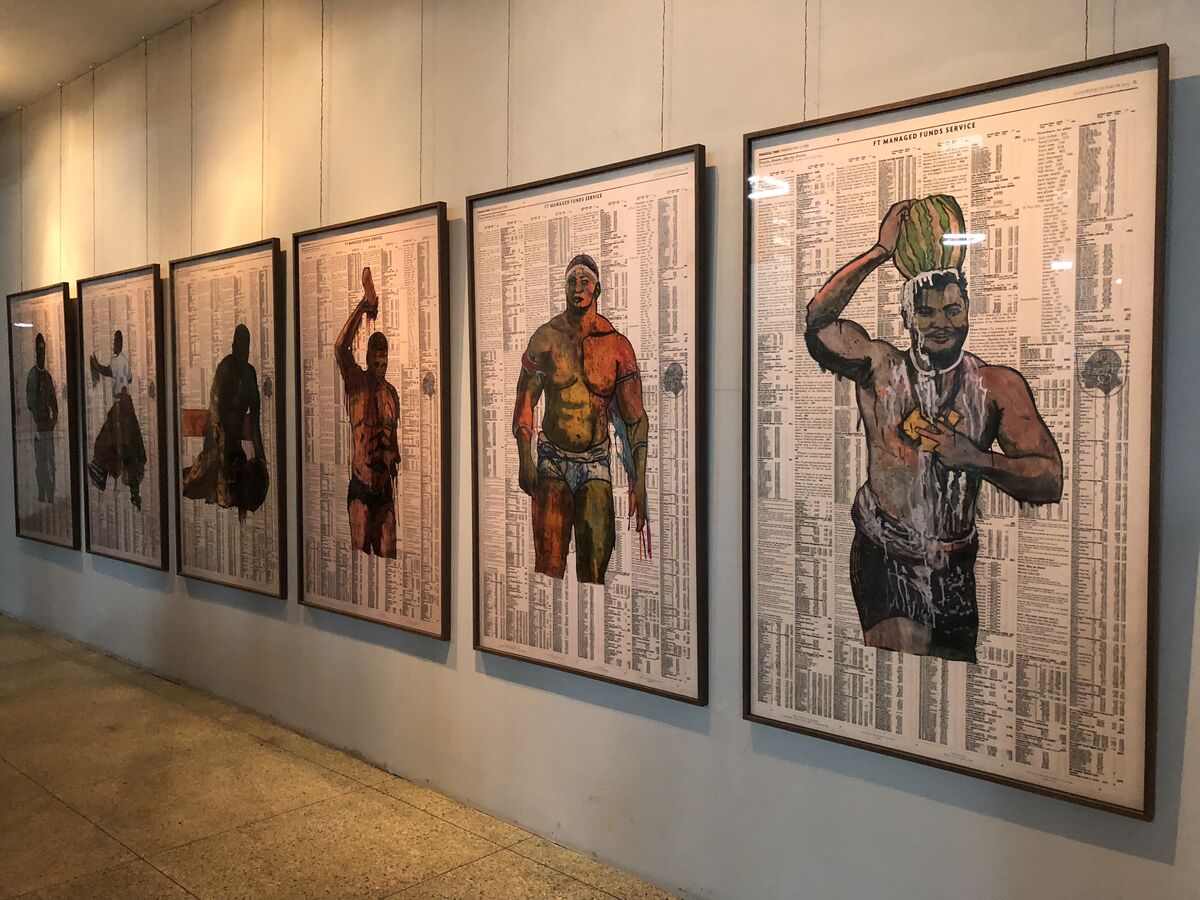 Installation view of Godfried Donkor, "Olympians," 2017-2018, at Dak'Art: African Contemporary Art Biennale, Dakar, 2018. Photo © Oumy Diaw.
In Dakar, Senegal, everyone from taxi drivers to artists echoes a common refrain: "C'est pas grave." In other words—just chill. Things happen here with their own haphazard, hectic frisson. That includes the latest edition of Dak'art, the oldest, largest, and perhaps most beloved biennial dedicated to the arts in Africa.
Sprawling, both in terms of locations and its roster, the 13th edition of Dak'art can be confounding to anyone expecting everything to go exactly according to plan. It's freewheeling, at times utterly disorganized, and difficult to contain within the boundaries of one cohesive event. But that's exactly what it needs to be—for there is much to consider, and many angles to engage with. Simon Njami is Dak'art's curator for the second time running; he's also a noted contemporary African art scholar, as well as the co-curator of the African Pavilion at the 52nd Venice Bienniale, among other distinctions. He thinks of the event as a "call for action," with artists at "the forefront of the battle."
Njami also thinks of the Dak'art biennial as a tool—a way to advocate for African excellence as well as the importance of the arts. It's a philosophy steeped not in idealism, but rather in pragmatism. "The art schools are so-so, the governments are so-so, the basic structure for action to happen isn't there yet," Njami says. "So if we don't think properly and get our act together, whatever potential we have will be wasted."
Dak'art itself is an example of such leveraged potential, mirroring the recognizable format of similar international exhibitions: national pavilions, countless off-site events, a week of panels and talks. But there's also a wealth of unexpected programming—like a performance of the musical Madiba, and an accompanying Afropunk festival—which extends Dak'art well beyond the walls of any single exhibition hall. Titled "L'Heure Rouge," a phrase borrowed from a play by Aimé Césaire, Dak'art represents a call for "emancipation, freedom, and responsibility," Njami says, "directed to the government, the museums, to the specialists and writers, to the whole continent and world."
Installation view of Glenda Leon, Temps Perdu II, 2013, at Dak'Art: African Contemporary Art Biennale, Dakar, 2018. Photo © Oumy Diaw.
As it turns out, some powerful people have been listening to that call, like Senegalese president Macky Sall, who has personally invested 500 million CFA (roughly $900,000) as a gesture of support. Sall announced this pledge at the ouverture—Dak'art's version of a press conference, which, in this case, took the form of an ambitious 3.5 hour musical pageant held at the Grand National Theater, with performances by Youssou N'dour; a 300-person Senegalese choir; a Rwandan drum-and-dance troupe; a Tunisian violinist; and an Afro-Jazz modern dance ensemble.
Sall himself was present, sitting in a group of Dakarois school children; the casualness (and lack of security) was a little jolting. He was there to do his part to elevate the arts as an economic driver for Senegal. "The present edition of the biennial comes in the context of the marked permanence of a cultural economy in a changing world, where culture contributes more and more to richness," he said, addressing an audience in which cabinet ministers and foreign dignitaries were mushed alongside radical artists and notable locals clad in boubous and dukus.
"The visibility of contemporary African art has improved in terms of revenues, the number of works, numbers of art shows, and quality level," he added, outlining four imperatives or demands: energize the domestic market; amplify arts education efforts; place art in public; and protect artistic production. "We have to organize our creative resources and accommodate the cultural sector," he said, speaking quite honestly. "The government supports investing in art because art helps economic development." Sall then debuted the new "1% Law," a national bill allocating 20 million CFA ($36,036) towards placing art in new public construction projects.
An impressive overture, indeed, but the work is far from done. "An artist without a gallery or a studio is someone who does not exist," Njami says flatly. "This biennial brings a lot of people, lots of tension, and from there, artists create things." But, he adds, after the flurry of events, many Dakarois note the city falls quiet—and so does the art scene. "Without any activity, how do you want the market to exist?" the curator asks. "Without the structure, there cannot be a valuable potential. The structure is the museums, the galleries, the collectors, the critics. This is how the market will shift."
Installation view of Guy Woueté, Democratic Classroom, 2016, at Dak'Art: African Contemporary Art Biennale, Dakar, 2018.
Gallery infrastructure is a point upon which both Sall and Njami agree. As Sall said, "we must focus our attention on supporting [local] art galleries so they can carry out their mission and attract international art galleries to come to Africa." The need for a homegrown market is a self-generating investment. "For Africans, no matter how they got their money, it would be safer to invest in art of the continent than, say, a castle in France, or a Swiss bank," says Njami. In the absence of African infrastructure, "the market will always be decided by Miami or London or New York."
Many of Njami's picks for his international exhibition within Dak'art, "Une nouvelle humanité," are Africans who have seen the benefits of such an established structure: Ghana's El Anatsui; Egyptian artist Ghada Amer; South Africa's Mary Sibande (fresh off her Armory Show commission); Côte d'Ivoire's Ouattara Watts (a perennial favorite of Vladimir Restoin Roitfeld); and Zimbabwe's Admire Kamudzengerere (who represented his country in the Venice Biennale last year). Njami is quick to point out how African galleries are working to support many of these artists. Watts, for instance, is represented by Cécile Fakhoury, who runs her eponymous Abidjan gallery in Côte d'Ivoire; Godfried Donkor, another inclusion, is on the roster of Gallery 1957 in Accra, Ghana. His series of collage-paintings, "Olympians," came about after a residency in Dakar at Raw Acadèmie (one of the city's leading art spaces), and built upon a fascination Donkor's held, since 1992, with Senegal's obsession with the national sport of lutte or laamb (wrestling).
The main show includes 75 artists in total, hailing from 33 countries. It's hosted in the Anciens Palais de Justice, an abandoned courthouse wherein the fate of a man who tried to assassinate the Senegalese president, poet, and intellectual Léopold Sédar Senghor was once decided. Njami cites Senghor as a prime leader in his own call to action. "Senghor bred the ground for culture, adjusted the budget for education, and created a movement to support art," he says. "If we don't want Senghor's work to die, we have to do something about it!"
The former courthouse is a work of art in its own right; imagine Miss Havisham dwelling in a 1960s Bond villain's lair. Since its closure in 1988, the site had become something of a refuge for poisonous snakes (long since dealt with). In 2017, President Sall handed this marble-colonnaded complex—which sits atop the furthest tip of Dakar's jutting peninsula—over to the Ministry of Culture, allowing it to serve as a permanent home for the Dak'art Biennial.  
Its dilapidated structure added urgency to the haunting works chosen by Njami, many of which reflect the biennial's curatorial themes. Glenda León's Temps Perdu II (2013), a mound of red sand with a balanced hourglass at its peak, echoes Njami's call that time cannot be wasted. Meanwhile, Paul Onditi's mixed media paintings nod to a need for infrastructure by depicting the urban chaos of Nairobi in glitchy, dripping paint. Guy Woueté's Democratic Classroom (2016) confronts colonialism in its latest forms: It's an installation representing a generic classroom, with a chalkboard reading "Fragile but Not Made in China," and empty chairs waiting for various personalities: "the Beauty," "the Judas," "the Professor," "the Dreamer" (written in French, a nod to the artist's home country of Cameroon, formerly occupied by France).
Another highlight is the work of Laeila Adjovi, from Benin, who took home the event's Grand Prix. Her photographic series "Malaïka Dotou Sankofa" is accompanied by a sewn set of angel wings; the entirety tells the tale of a fictional female character who is meant to personify "breaking free," according to a wall text. As Adjovi said during her acceptance speech, "when Africa rises—and it is rising—it will happen on its own terms."
Yet it's also important to Njami that this event presents Africa on an international stage. "When I curate a biennial, I invite the world," he tells me. "When I curate a biennial in Dakar, I want a global discussion." As a result, in addition to the main show, Njami invited five international curators—Alya Sebti (Morocco), Bonaventure Soh Bejeng Ndikung (Cameroon), Marisol Rodriguez (Paris and Mexico City), Cosmin Costinas (Hong Kong), and Marianne Hultman (Sweden)—to organize accompanying exhibitions that put artists from across the world into an African context.
"It's one thing to talk about Africa to the world when in New York or Paris, but it's another to talk about Africa and the world from Africa," Njami explains. A standout effort co-curated by Costinas and Inti Guerrero, "Long Green Lizards," brings together artists like Ming Wong from Singapore, Belkis Ayón of Cuba, and Cian Dayrit of the Philippines. The curated show echoes the sentiment, shared with the African continent, that "social engineering has gone hand in hand with resource extraction and agrarian monocultures," says the show's text, leading the citizens of these colonized lands to be reduced to commodities and capital.
Detail of Paul Onditi, Grey tones, 2018. Photo © Oumy Diaw.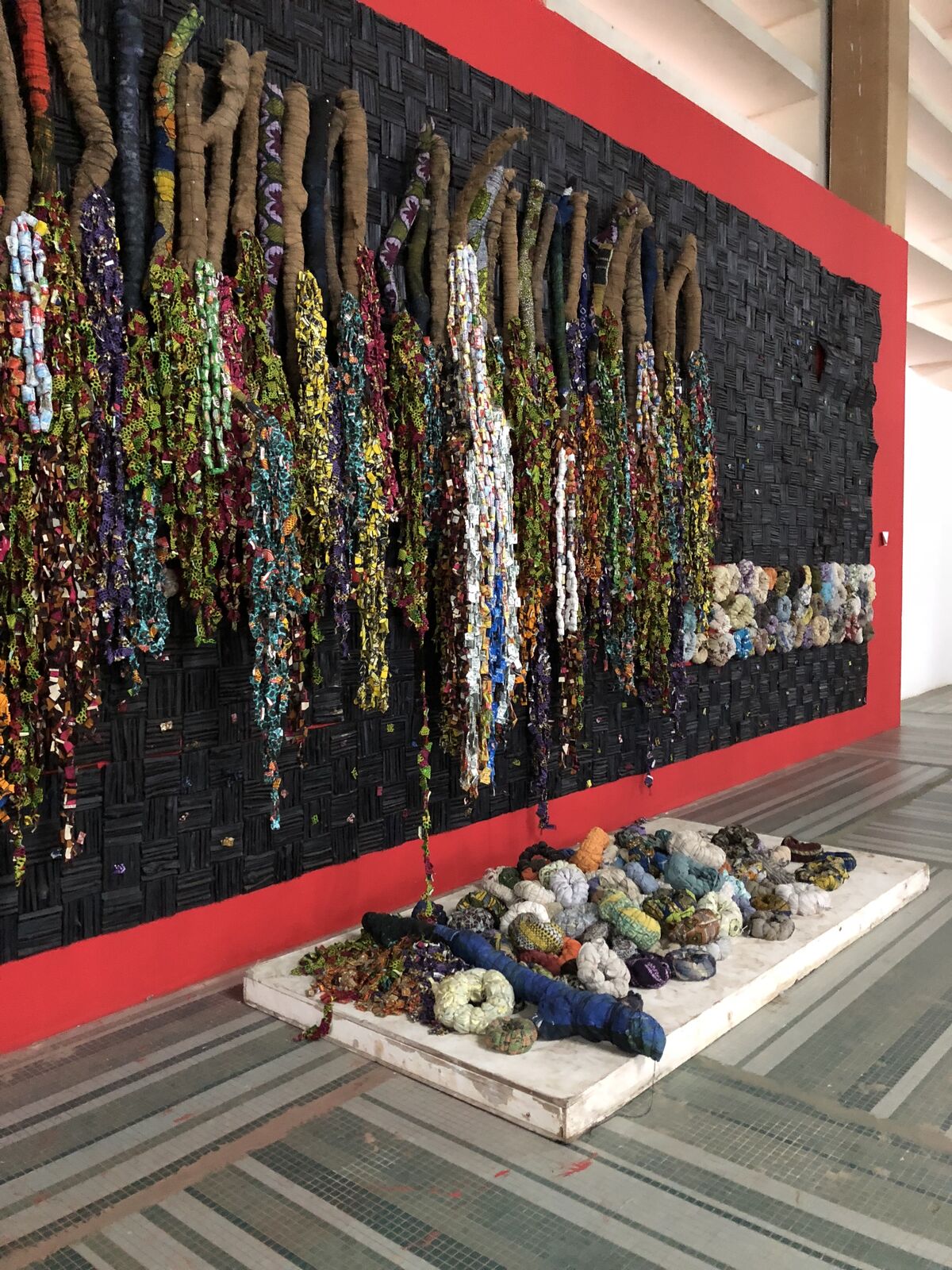 Installation view of work by Olanrewaju Tejuoso (Olan), Oldies and Goodies, 2017-18, at Dak'Art: African Contemporary Art Biennale, Dakar, 2018. Photo © Oumy Diaw.
Wong's campy drag remake of Douglas Sirk's 1959 film Imitation of Life, which is about a black woman forced to give up her biracial child, zaps any humor present in the original. Meanwhile, the late Ayón's allegorical collages—depicting the Afro-Cuban fraternal society Abakuá in dark tableaux, enlivened by the momentary pop of white eyes or the outline of a figure—are a reminder of just how black and white historical perceptions have been towards "the Other."
The notion of that "Other" extends, as Njami points out, to how the city of Dakar itself relates to the wider art world, and how the local community is integrated. "The Dakarois are at the heart of this event," he says. "You don't make a biennial for just one week." And with that in mind, projects that actively impact and invite participation from the Dakarois are of particular importance this iteration.
One of the most prominent examples in this vein would be Mon Super Kilomètre (MSK), supported by the Josef and Anni Albers Foundation. The work is situated along a kilometer-long stretch of the Boulevard Gueule Tapée, the main artery of Dakar's Medina—a place where goats and cattle intermingle with open-air vendors selling everything from counterfeit Gucci sandals to bags of charcoal and Western cosmetics.
Installation view of Studio UY077, Mon super kilomètre, 2018. Courtesy of Thread and the Josef and Anni Albers Foundation.
The project lines the boulevard with a row of hand-dyed Senegalese cotton textiles produced locally in the city of Thies (an hour to Dakar's north) and affixed to metal poles. As explained by Nick Murphy, director of Thread (a residency program in Tambacounda, Senegal, that is part of the Albers Foundation), the project is a living one. "There is no specific plan for dismantling" the work, he adds. "The original materials—the blue curtains, even the metal bars—will certainly begin to disseminate around the neighborhood, disintegrating from MSK but becoming repurposed in new ways. In this way the slippage of art practices and quotidian practices is not some noble novelty; it is a beacon for the rest of the world of how to move forward."
Njami is sensitive to what a platform like Dak'art can, and should, convey. "The notion of 'we' is more developed in Africa than in the West, where the 'I' has become the main facet," he says. In other words, as Njami explains, a sentiment like "I have a dream" can become "Yes we can!"
This sort of mobilized, collective effort requires the efforts of many—including, of course, the artists themselves. An expansive event like Dak'art can advocate for change by "confronting challenges and working through them with art, the most immediate language we Africans have [to communicate with each other]," as artist Kamudzengerere, who lives and works in Harare, Zimbabwe, tells Artsy. "This is Africa: there's order in the disorder, a beautiful disorder."
Julie Baumgardner
Powered by WPeMatico