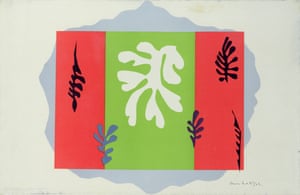 In the 1940s, School Prints were a visionary notion to bring affordable, adventurous artworks into classrooms. Reinvented for the 21st century, they still are today
In 1946, a letter was sent out to a number of British artists. It began: "We are producing a series of auto-lithographs … for use in schools, as a means of giving school children an understanding of contemporary art. By keeping the price as low as possible, we are able to bring this scheme … within reach of all Education Authorities." This was the beginning of a project called School Prints. The idea had been that of a dashing Etonian (and European federalist) called Derek Rawnsley, who died in 1943 while in the RAF. It was carried through by his young widow, Brenda – an equally dashing figure who, fluent in Arabic and French, had served during the war as an intelligence officer in Algiers, Cairo and Palestine, and undertook missions such as a clandestine visit to a bombmaking factory in Germany.
Not knowing a great deal about art, she co-opted someone who did: the critic Herbert Read. Between them they persuaded artists including John Nash, Tom Gentleman and Barbara Jones to contribute to the project. Schools enthusiastically embraced their gentle, playful images, which included a harvest scene, dray horses and a fairground. In 1947, having already persuaded Henry Moore to make an abstract work for her, she broadened the series to French artists and – by dint of hiring an aircraft and employing her considerable charm – convinced Dufy, Picasso, Léger, Matisse and Braque to take part. Though less popular with postwar British schoolteachers, the French set is the one that has best stood the test of time.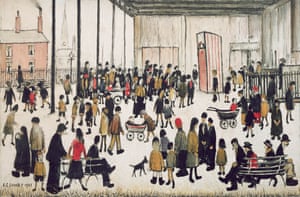 It is hard to summon up now how extraordinary it must have been for a child, perhaps never before having seen a real work of art, to encounter a bright Picasso abstract – and hanging on the classroom ​wall, not closeted away in a museum. The School Prints initiative was of its time, in the best possible way. This was the era of the formation of the Arts Council and of Unesco, of the idea that nations could be rebuilt not just in bricks and mortar but through art – and, significantly, through art for everyone, not just the few. As Read had put it in 1943: "Education through art is education for peace."
Now, in a new era of austerity, the idealistic notion of School Prints has found its time again. The Hepworth Wakefield – the 2017 Art Fund museum of the year – has commissioned original lithographs from Jeremy Deller, Anthea Hamilton, Martin Creed, Helen Marten, Haroon Mirza and Rose Wylie. They are on show in the museum now, alongside examples of the 1940s works. Sets will be distributed to schools in Wakefield, and poster versions made available cheaply to schools elsewhere. As with the original prints, they will also be on sale to the public – with profits ploughed back into the Hepworth education programme. It is a joyful project, to be heartily welcomed. And if the works seem a little too adventurous for some tastes, then one can take heart from the wise words of Picasso, defending his print in 1947: "The children will understand."
Powered by WPeMatico